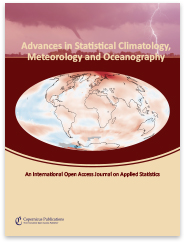 The interdisciplinary journal Advances in Statistical Climatology, Meteorology and Oceanography (ASCMO) serves at the interface of statistics and the atmospheric and oceanic sciences. ASCMO gives statisticians and mathematicians the opportunity to reach more scientists while publishing cutting-edge statistical methodology. It also provides researchers in climatology, meteorology, and oceanography an outlet to publish more details of their statistical and computational mathematical developments, which will lead to improved models and methods for this important area.
News
28 Jun 2022
Release of journal metrics 2021
The journal metrics 2021 were released and the current numbers are available from the journal metrics overview.


21 Dec 2021
Season's greetings from Copernicus and review deadline extensions
At the end of the year, we would like to express our deep gratitude for our collaboration with all editors, referees, and authors in 2021. Please take a look at our Christmas card. Since our virtual office is closed from 23 Dec to 2 Jan and a significant number of editors and referees pause their work over the Christmas days, we extended all journal review deadlines: deadlines expiring shortly before or over Christmas have been extended to the week after and deadlines expiring after Christmas or over New Year have been extended to after New Year's Day. Season's greetings and a happy New Year. Please stay healthy.


30 Jun 2020
Update of journal metrics
The journal metrics were updated and the current numbers are available from the metrics box on the left-hand side.